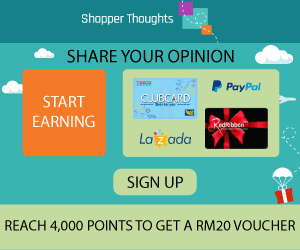 Join Shopper Thoughts Malaysia Program and begin earning FREE shopping vouchers now!
Every day you're faced with lots of different choices. Not just along the supermarket aisles, but in every walk of your day-to-day life. If you're a member of the Shopper Thoughts Panel, they will send you regular surveys to complete so that they can understand what you like and what you dislike, what issues are important to you and how they can serve you better in the future.
Shopper Thoughts is a way for consumers to share their experiences and thoughts. This helps them to develop the right products and to create the best shopping experience they can for you.
Sign Up Link
3 Simple Steps to Earn RM20 Shopping Voucher
Take part in surveys, share your opinions and earn points
Reach 4,000 points to get a RM20 voucher of your choice
Shopper Thoughts Malaysia Program Product Type
Food and Travel
Fashion
Services
Health and Beauty
Marketplace
Electronics
Home and Living
Groceries
Luxury
Sport
Mother and Baby
Group Buying
Gaming